So naturally I was waiting in line for the Apple store in Palo Alto to open so I could get my Kindle immediately! Back in October, I was already planning this. The verdict? While I could live without one, I definitely don't want to. And certainly my family won't want to!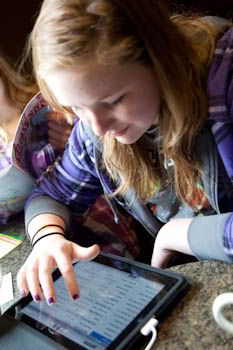 Sophie trying out the iPad in Starbucks
It was a family affair:
My kids downloaded Scrabble and various Tap Tap games.
My husband played a good number of games of Solitaire.
I read the New York times — app isn't nearly deep or rich enough. Why cut out all that content?
I watched movies on the fab Netflix app — though the screen is so mirror like I kept seeing my face in it. Didn't like that — and it's hard to watch with more than one person.
I watched part of a TV show on the ABC Player.
I downloaded one or two books, but I can't see doing a lot of reading on this.
I accessed my Kindle library on the Kindle app. A definite improvement on the Kindle experience. But where is the ability to annotate?!
My husband played with the Weather Channel map and talked endlessly about where the snow was falling (and therefore where he should be skiing.)
I can really see this as a terrific travel device. It's so, so much easier than carting around a laptop. If you're not planning on a lot of work that involves typing, then it's just right.
It's not a device for sharing with others, unless you're playing a game of some sort. Even then, it's crowded for two.
Buy some really good screen cleaner and a soft cloth of some sort. Greasy finger marks show up easily.